Malaria Kits
Malaria Preventative Kit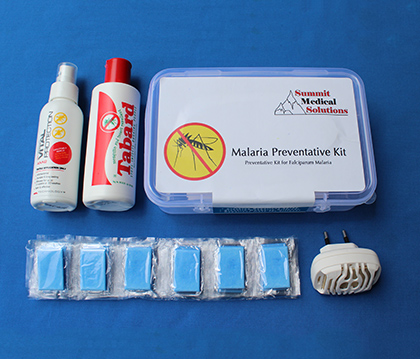 1 x Anti-Mosquito Clothes Spray
1 x Anti-Mosquito Skin Lotion
1 x Heat Diffuser (2 Pin) with Mats
1 x Mosquito Net - Single (Optional)
Malaria Curative Kit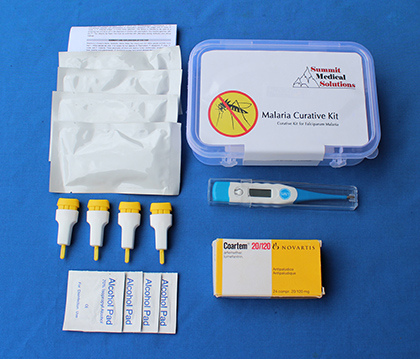 4 x Malaria Rapid Tests with Instructions (Falciparum)
4 x Alcohol Wipes
4 x Safety Blood Lancets
1 x Digital Thermometer
24 x Coartem Tabs (Optional)
Facts about Malaria
Malaria is a life-threatening parasitic disease transmitted by the female Anopheles mosquito.
Globally, an estimated 3.4 billion people are at risk of malaria.
The WHO estimates that 207 million cases of malaria occurred across the world in 2012.
One child dies every minute from malaria.
Malaria kills +/- 650 000 people each year.
Malaria accounts for 40% of all public health spending in Africa.
---
The ABC's of Malaria Preventation
A - Awareness
The symptoms of malaria are similar to flu-like symptoms. Typically patients experience fever, chills, sweats, aches, fatigue, diarrhoea and nausea.
B - Bite Prevention
The first line of defence against malaria is bite prevention. Use a Summit Medical Solutions' Preventative Kit to ensure you are not bitten.
Malaria Preventative Kit consists of: Anti-Mosquito Clothes Spray, Anti-Mosquito Skin Lotion, Heat Diffuser with Mats, Mosquito Net (Optional). Expanded Preventative Kit has chemoprophylaxis added.
C - Chemoprophylaxis
Anti-malarial drugs can reduce the risk of malaria. Contact Summit Medical Solutions should you wish to be provided with an Expanded Preventative Kit containing chemoprophylaxis for your next trip.
D - Diagnosis and Treatment
Medical attention should be sought as soon as any symptoms of malaria develop. Summit Medical Solutions' Curative Kit is designed to both diagnose and treat malaria.
Summit Medical Solutions aims to aid with the diagnosis of malaria and provide immediate, on-hand treatment wherever you may be.
Malaria Curative Kit consists of: Malaria Rapid Tests, Alcohol Wipes, Safety Blood Lancets, Digital Thermometer, Coartem Tabs (Optional).
---
Some Common Myths
"It is better not to take any prophylaxis, as this masks the symptoms and makes diagnosis difficult"
No! Not taking prophylaxis when visiting a malaria area puts travellers at risk of contracting this dangerous and lifethreatening disease. Contact Summit Medical Solutions for more information and advice about chemoprophylaxis.
"Malaria cannot be cured"
Malaria can be cured with the appropriate drugs. The Summit Medical Solutions' Curative Kit contains the
WHO's currently recommended treatment
for malaria.
"I wasn't bitten, can I stop taking my prophylaxis?"
No! You must complete the course of prophylactic medication as prescribed. Summit Medical Solutions' Expanded Preventative Kit is designed to protect you from contracting malaria by means of preventative and prophylactic measures.